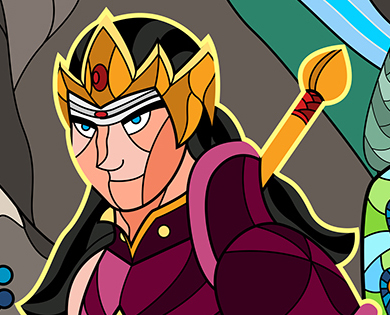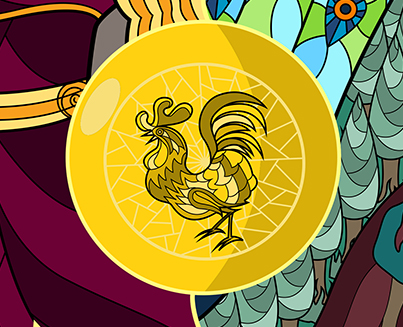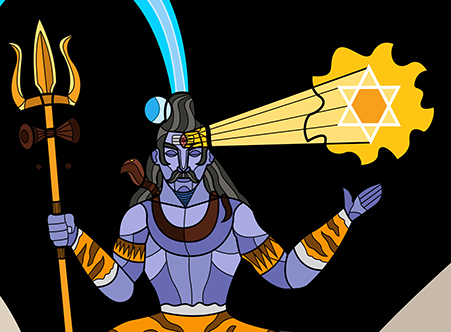 Life of Karthikeya
The Life of Karthikeya was one of the earliest mythological drawings I've ever done. Now that my Karthikeya design has sort of evolved from that original state, I decided to revisit various incidents from event filled life of the God of War, while adding a few more stories. 
Karthikeya is supposed to be the General of the Gods and aspects over the 'Kurinji' or hilly terrains of a landscape, which is why there are so many hills in the drawing. He is also supposed to be a patron of poetry. 
I decided to make one last refinement to his design. His banner/emblem is a Rooster, which is traditionally on a flag. But I decided to put it on a golden shield, much like the Aegis - the legendary greek shield with the face of Medusa on it. I also made some changes to his tiara, making it more jagged and powerful. Also making his first appearance in my drawings is Agni, the fire god. At the bottom of the post is the original image for comparison.  
The story begins with the demons getting a boon from Shiva that they can be killed only by his child, knowing that he is a celibate saint. As the demons go about their tyrannical rule, Shiva decides he's had enough of their nonsense and decides to do something about it.  

Here are the major incidents in the newer piece:
- Shiva creates a divine spark from the blazing fires of his third eye. As Shiva's son, he is called Guha. 
- Agni (the fire god) carries the divine spark but drops it in the Ganga because it's too hot. Agni also claims part parentage in the child, so as Agni's son he is called Mahasena. 
- Ganga carries it through the secluded Shara forest and drops it there in a lotus. As Ganga's son, he is called Gangeya. And as the son of the Shara forest, he is called Sharavana. 
- The spark manifests as a child, nursed by the Krittika maidens (who form the pleidas constellation). As their son, he is called Karthikeya. He is then claimed by Parvati, who names him Kumara. 
- Ganesha and Karthikeya have a contest over who gets to keep the Fruit of Knowledge brought by the sage Narada
- Karthikeya loses the contest and goes off to sulk/gain more wisdom as the poet Avvaiyaar beckons him to return to his parents
- Marrying Valli, the princess of the forest tribes, after protecting her from a wild forest elephant (who was secretly his brother Ganesha in disguise)
- Karthikeya imprisons Brahma for not understanding the mysteries of creation and advises his own father on the secrets of the Universe
- Karthikeya tests the poetry skills of Avvaiyaar
- Karthikeya fights the demonic horde of Surapadman/Simhamukha and Tarakasura. Here he fends off the Krauncha hill which is a demon in disguised, a sort of Rock-topus, if you will. 
And some of the minor incidents:
- Bhagirata prays to Shiva to release Ganga from the heavens
- The sage Jahnu swallows the Ganga when she threatens to destroy his hermitage but then releases her through his ear when his anger subsides